See water damage? Call a Public Adjuster!
As a Public Adjuster Palm Beach County, we see a wide range of home roof leaks. This one spread through the roof, between the wall beams, and all around the house. Chances are had the homeowner called their insurance company first, they would most likely have just fixed the leak and re-painted the walls. However, because this homeowner decided to call a Palm Beach County Public Adjuster first their home damage situation was handled swiftly and easily. When we arrived and tested the walls for moisture, it became clear there was a much bigger problem brewing. Scroll down to read the article.
A bad roof seal between a roof and the house allowed water to enter this home in Palm Beach County. The water caused a wide range of issues including a damaged floor, damaged walls, and a mold problem. Below are the pictures showing the extent of the damage. By looking at these pictures, you will be able to easily see why calling a Palm Beach County public adjuster is the smartest move a homeowner could make. Even though this home was located in Palm Beach County, our services extend to Broward County and Martin County. If you are located in West Palm Beach, Jupiter, Palm Beach Gardens, Lake Worth, Boynton Beach, Delray Beach, Boca Raton, Pompano Beach, Fort Lauderdale, Deerfield Beach, Stuart or Port St. Lucie, we are here to help you with all your home or business property damage issues.
When a homeowner calls their insurance adjuster to report home water damage, the outcome could likely be to remedy the problem as inexpensively and quickly as possible.  This means taking care of all the visible damage.  If a wall is discolored, they will paint it.  If the wood floor needs re-staining, they will get that done.   Of course they will send someone to repair the roof leak as well.  However, what your home insurance company most likely won't do, is look beyond the normal visible damage.   Basically the insurance company's motto is, If it's not visible it doesn't exist.
This get it done cheap and fast attitude many insurance companies have,  is the basis for most of our more serious home damage insurance claims. Because this homeowner called us first, the homeowner was saved a ton of stress and saved money.  l  In this water damage article below,  I will not only explain why calling us first was a smart move – I will also include pictures that show the hidden damage and growing mold that most insurance companies overlook.  The big problem with this situation is that the water entered from one place on the roof, then traveled along the beams inside the home to another part of the home.
When we arrived were able to track the water damage through the home, repair the walls and remediate the hidden mold.
Once we inspected the home, we saw that the wall trim was cracked due to the expansion and contraction of water.  This expansion and contraction continued through the floor as well.  Cracks in walls are often the first sign of serious water damage.  If you notice wall cracks, or ceiling stains your first call should be to a Public Adjuster Palm Beach County.
Many insurance companies would have simply repaired the leak, painted the wall and restained the floor.  By looking at these pictures you can clearly see the extent of the damage.
By calling us first, we were able to get the homeowner a settlement that covered the cost of repairing the water damaged floor, replace the mold covered drywall along with the floorboards and hardwood floor.
It's important to remember that when it comes to home water damage, time is important,  There's a wide range of secondary destruction that will take place as more and more time passes.  As the moisture spreads through the home, it causes considerably more damage.  At Fox Public Insurance Adjusters, we have the latest equipment which is used to detect moisture in walls, under floors, and under carpet.  Our specialized equipment allows us to confirm our findings and track down hidden water damage before it grows into a huge problem.
When a homeowner experiences water damage in Palm Beach County or any other part of South Florida, their first call should be to us.  While water damage may seem like no big deal, it's actually a huge deal.  If not treated correctly, the water moisture will start the mold growing process in 24-48 hours.  Mold is an organism that eats the sugar in wood, thus destroying your home.  The more sugar the mold eats, the faster it grows.  In addition to mold eating your home, the mold releases dangerous toxins that will cause a wide range of illnesses.  Often a home will suffer water damage and the homeowner won't even know they have a mold problem.  This article explains the problems associated with leaving a mold problem unchecked.  A mold nightmare.   Only after several trips to the doctor with respiratory problems, will the homeowner or doctor start to suspect mold poisoning?  For more information on mold read this article.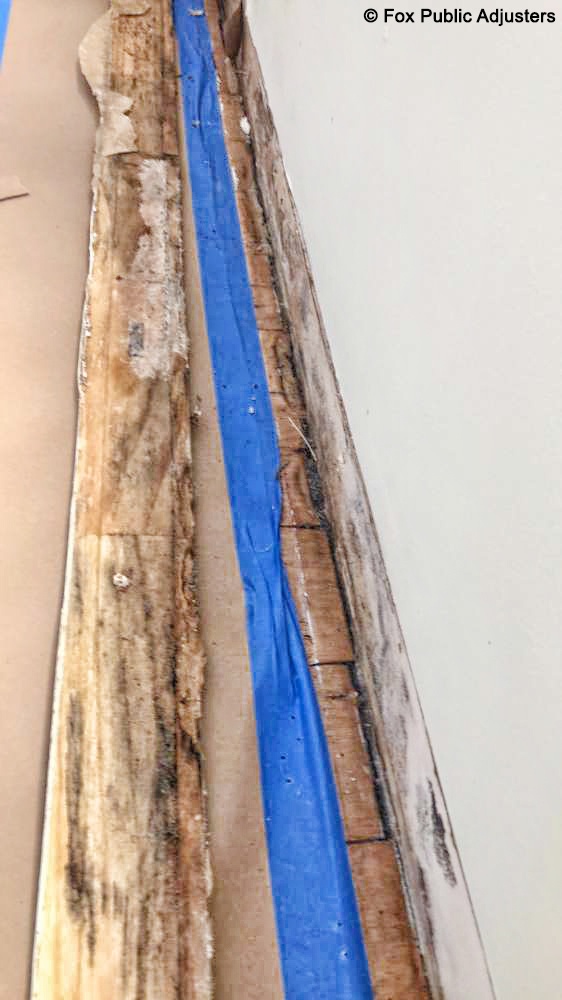 In the picture above  you can see how there is mold sitting under the floor boards and inside the baseboard.  By first testing for mold and moisture, we were able to determine that there was an issue behind the homes baseboard.   Left untreated, the mold and moisture behind to baseboard would result in additional mold growth.  Mold grows by eating the sugars in wood, if allowed, mold would spread all through the home structure eating every part of the house.  Many homeowners believe that by simply leaving the mold alone it would dry and disappear.  Nothing could be further from the truth.  Ignoring a water or moisture problem is the worst thing a homeowner could do.
Todd from Fox Public Adjusters is an expert at inspecting at a home, finding the water damage and then tracing the water damage to its ending point.  Because Todd is an experienced home construction contractor as well as a former insurance agent, he knows what it takes to repair a water damaged home properly  as well as how to work with the homeowners insurance company.
If you live in Port St. Lucie, Deerfield Beach, Stuart, Fort Lauderdale, Boca Raton, Pompano Beach, Delray Beach, Boynton Beach, Lake Worth, Palm Beach Gardens, Parkland, Fort Lauderdale or West Palm Beach and have home water damage from a roof leak, plumbing problem, or any type of flood call us at (561) 789-4FOX.
Roof leaks can cause problems you can't see. Let FOX guide you through the claims process.